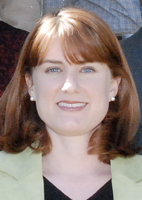 Back to Researcher Profiles.
Dr. Laura H. Downey is an Assistant Extension Professor at Mississippi State University in the School of Human Sciences. Dr. Downey serves as an evaluation specialist with Mississippi State University Extension Service. In this position, she evaluates and reports the impact of programs in agriculture and natural resources; community and resource development; family and consumer sciences; and 4-H youth development.
Dr. Downey obtained a B.S. in Anthropology and a M.S. in Rural Sociology from Auburn University. In 2006, she received DrPH from the University of Kentucky.
Her initial research in community partnerships led to Dr. Downey's interest in public health systems research. The Robert Wood Johnson Foundation mini-grant that she received through the University of Kentucky supported her initial investigation of the role of partnerships in public health systems' performance, particularly to establish recommendations for forming effective partnerships by local public health agencies. This research sought to provide local health agencies and practitioners with information about a variety of partnerships needed to influence public health systems' performance.
Dr. Downey's most recent research efforts have included conducting an environmental scan and evaluability assessment of National 4-H Healthy Living programs that focus on the areas of healthy eating; physical activity; and/or alcohol, tobacco, and other drug use prevention. This project was completed through the National 4-H Council and its partnership with Molina Healthcare.
Project
Understanding the Breadth and Depth of Local PH Agencies Partners and Their Influence on Local PH System's Performance
Research Areas
Contact